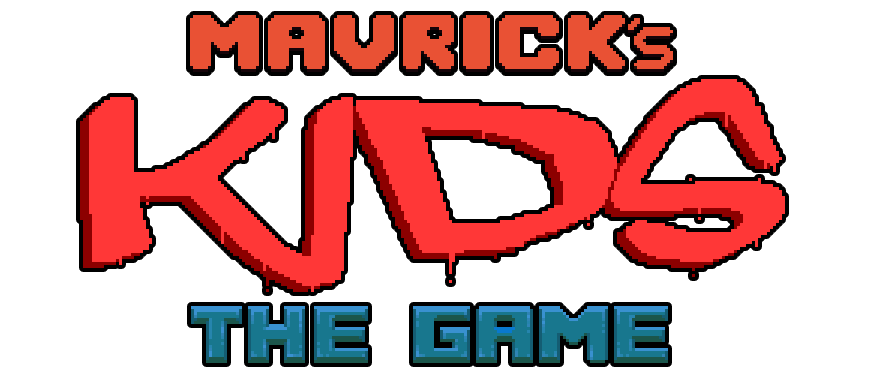 KIDS
"Help Mavrick break the chains of the greedy corporate music business and reclaim his artistic freedom!"
This is a promotional 3-5 min long action game developed for JUBEL and music artist MAVRICK for the release of his song 'KIDS'. Enjoy!
Controls:
PC = Keyboard (Arrow keys + Spacebar)
Mobile/Touch = Touch buttons at bottom of screen
---
Game design - Tomas Lundgren
Art & Animation - Rymdlejon
Audio - Christopher Peduru Aratchii
Music - Mavrick
---
Note: This game is played in your browser and should be compatible with most touch devices, smartphones and computers. If you have any issues please see the troubleshooting section below.
---
T R O U B L E S H O O T I N G
The game is best experienced on a computer or a reasonably modern touch device, preferably with a medium or large sized screen. If you have an older touch device or mobile with a smaller screen (for example iPhone 5S or older) I recommend that you play the game on a computer (PC or MAC) for an optimal experience.
If you are experiencing problems with the game try one OR more of the following things...
If the game get's stuck on the loading screen try refreshing your browser. The game can freeze on the loading screen if you change tabs while the game is loading.

THE CURRENT AND LATEST BUILD IS v1.4.0. IF you do NOT see this version number shown at the bottom of the screen when you start the game you might be running an outdated, cached version of the game. This could happen if you have played the game at an earlier date and can also depend on your browser settings. To ensure that you run the latest version of the game go to the advanced settings of your browser and clear your browsing data, specifically the cached images and files, then revisit www.KidsTheGame.com.
Make sure your device is updated with the latest firmware (extra important on iOS).
Make sure your browser is updated and running the latest version.
Make sure you have a stable and fast internet connection as you might experience lag or audio delay. If you have a very slow connection you might not even be able to load the game.
Make sure you play in your device's browser (Chrome, Safari, etc).
Make sure you are not running too many other apps and processes simultaneously on your device as it may affect the performance of the game.
If you are using an older or uncommon device/operating system (not iOS, Android, MAC or PC) and have access to one of the more modern, common devices and/or operating systems, consider playing it on that device/OS instead.
If you are using a bluetooth audio device and do not hear any audio try re-connecting the device, or connecting your speaker/headphones with a cable instead.
Older and uncommon devices can have issues running the game. If you are trying to play with one of the devices listed below I strongly advice you to choose an other device or computer. Below are some examples of devices known to have problems and NOT run the game properly or optimally...
Most "older" iOS devices, released 2011 or earlier
iPhone 4S, released 2010 (The screen is extremely small and not recommended)

iPhone 5, released 2012 (Runs the game but screen is so small that it is not recommended)

iPad 2, released 2011, running iOS 9.3.5 (Problems with audio and overall performance)
Windows Phones (Does not run at all, using internet explorer browser on Lumia 640 XL)